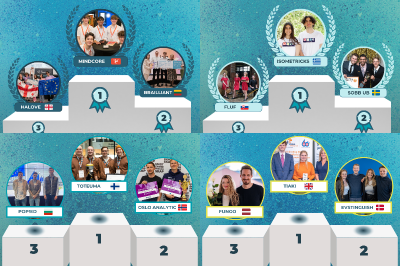 #GEN_E 2023 Winners showcase future solutions at Europe's largest Entrepreneurship Event!
ISTANBUL, 13 July 2023 – An exciting game of thought and creativity with a mathematical background; an innovative assistive app to support neurodiverse individuals; sports protection kit specially designed for the woman's body; a data gathering tool for underground infrastructure surveying – these were the winning businesses of Europe's largest Entrepreneurship Event Gen-E 2023 in Istanbul, organised by JA Europe and hosted by JA Türkiye. The Gen-E 2023 European entrepreneurship competition gathered over 800 young entrepreneurs, their teachers, business partners and policy-makers from all over Europe for an impressive showcase of business ideas, innovation and entrepreneurial spirit. The competing teams had been selected from over 390,000 JA students in the 2022-23 school year to participate in the Gen-E 2023 European Entrepreneurship competitions for upper secondary and university levels through digital and on-site interviews, written pitches, stage presentations and expo stands.
Already before the Istanbul on-site final competition, thousands of JA youth showcased their businesses in the Virtual Expo and competed for thematic European Online Awards supported by EIT Manufacturing, EIT Food, Europen, Intel, Johnson&Johnson, NN Group and Project Management Institute Educational Foundation. In only a few months, the Virtual Expo had almost 500,000 page visits, and over 46,000 unique visitors.
The Winners of Gen-E Main Awards 2023 are:
The Main Awards winners scored highest across the competition stages and areas of evaluation by the Main Jury. In addition, thematic Gen-E 2023 European Signature Awards rewarded specific areas of excellence, such as Market Access, Digital Innovation, ESG, Financial Sustainability, Brand Excellence, Financial performance and Work Readiness. Winners of Gen-E 2023 European Signature Awards by our Gen-E Main Partner FedEx, and European signature partners Avanade, Arconic Foundation, AT&T, BNY Mellon, Citi Foundation, Delta Air Lines, Euroclear, EY, Goodyear and ManpowerGroup can be discovered on www.gen-e.eu.
Gen-E 2023 gathered the full range of entrepreneurship education ecosystem players, including educators who accompanied the competing youth and participated in capacity building sessions, and were rewarded during the Awards Ceremony for The Entrepreneurial School Awards 2023. JA Alumni Europe was engaged through the Alumni Leadership Awards for high-achieving JA youth as well as sessions focusing on further entrepreneurship opportunities and early-stage Start Up activity of JA youth after completing their entrepreneurship programme. A policy roundtable focusing on Underserved Youth together with NN Group and with the participation of UNICEF, Accenture and the Italian Youth Agency underlined the huge potential of empowering European youth at scale through opportunities to learn and integrate the labour market.
"Gen-E has established itself as a flagship movement that gathers youth, educators, businesses and policy-makers who call for investment into education", said Adam Warby, Chairman of JA Europe. He continued: "Today thanks to groundbreaking new technologies and digital engagement, we have seized the opportunity to scale our impact for the benefit of all young Europeans, and Gen-E is the call to action for all interested parties to join us."
Salvatore Nigro, JA Europe CEO added: "In today's Europe, talent is universal, but opportunities are not. It is our mission to empower Europe's youth with the skillset and mindset to build thriving communities while making sure that no one is left behind. Gen-E 2023 winners are an inspiration to all young Europeans so that they can unleash their full potential and thrive."
Çelik Ören, Chairman JA Türkiye, stated: "As Junior Achievement Türkiye, in the last 24 years we have had the opportunity to influence the lives of hundreds of thousands of young people on our journey to raise them with an Entrepreneurial Mindset. We have worked on providing our children and young people with entrepreneurial mindset, financial literacy and 21st century skills through experiential learning methods at every stage of their education, including kindergarten, primary school, high school and university levels. In this process, we have provided and will continue to provide global development opportunities for our students and teachers through our international cooperation with Junior Achievement. In the 100th anniversary of our Republic, we are proud and excited to host with more than 800 participants which will impact the education and entrepreneurship ecosystem and global visibility of our country."
Seçil Yıldırım Çelebi, CEO JA Türkiye, added: "We are very happy to be organizing the Gen-E 2023, Europe's largest entrepreneurship event for young people aged 15-24 with Junior Achievement Europe in Istanbul with the participation of 40 JA Members from all over Europe. It is very valuable to celebrate the power of entrepreneurship together with the JA family, and move forward with the mission of raising young people with an entrepreneurial mindset."
About Gen-E
Gen-E is Europe's largest Entrepreneurship event, a celebration of entrepreneurship and the achievements of European youth. Thousands of European students, from 15 years old onwards, showcase their cutting–edge business ideas online and on-site. The Gen-E Festival also combines two annual European entrepreneurship contests for the winners of JA Company and the JA Start-Up Programme from over 40 countries. Gen-E 2024 will be held in Catania, Italy.
About JA Europe
JA Europe is the largest and leading organisation in Europe dedicated to inspire and prepare young people to succeed. For over 100 years, JA Worldwide has delivered hands-on, experiential learning in entrepreneurship, work readiness and financial health. In the last school year, the JA Europe network provided over 6.6 million learning experiences for youth in online, in person and blended formats. For two consecutive years, Junior Achievement has been nominated for the Nobel Peace Prize for its global reach, youth economic empowerment delivery at scale, and ability to find unity in diversity.
Media Contact
Minna Melleri, Chief of Advocacy and Growth, JA Europe (minna@jaeurope.org)